Scott Nelson, the founder and president of SRMG, originated secur-link, an innovative, multidisciplinary solution that effectively connects each piece of the complicated security chain to ensure gold-standard results for corporations and individuals.
THE CONCEPT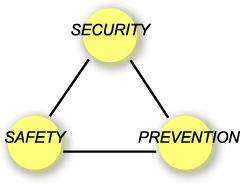 THE SOLUTION

The secur-link solution consists of four main steps.
Step One
A preliminary review to formulate a clear understanding of each client's expectations, needs, and risk exposure.
Step Two
A cost-benefit analysis to identify the real cost of action - or inaction.
Step Three
An on-target, integrated action plan tailored to each client's unique requirements at the office, at home, at special events, or during travel.
Step Four
Follow-up assistance in training, implementation, and procedure testing to ensure a proper fit and a successful outcome.